The Kirkby Microwave 85054 18 GHz Type-N coaxial calibration and verification kit.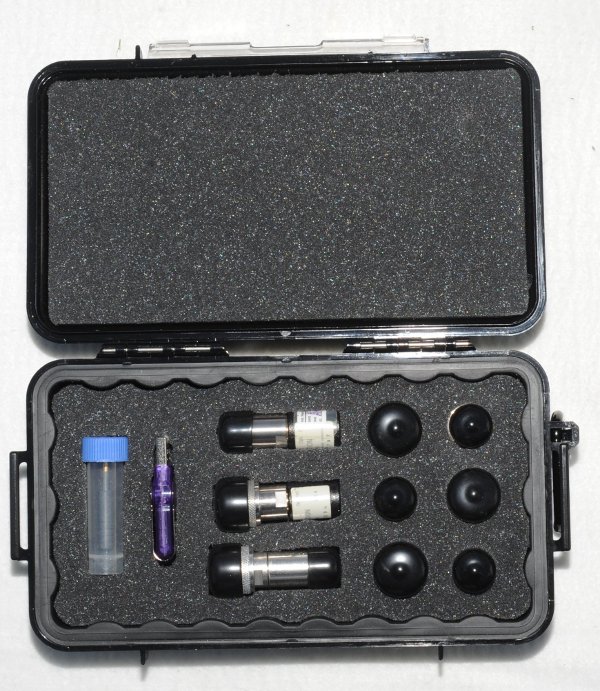 The Kirkby Microwave 85054 is a coaxial calibration and verification kit for vector network analyzers. It can be used up to 18 GHz, but due to the high cost of very high quality 18 GHz loads, we usually sell this with 6 GHz loads. Contact us if you want this with anything other than 6 GHz loads.
Purchasing the 85054 18 GHz kit from this website with Paypal
Purchasing directly from our website will save money compared to buying from eBay, but you still have the buyer protection of Paypal. Since we don't incur eBay fees, our price on the website is lower. Prices are given in GBP. Please ask for a proforma invoice if you want to pay in another currency, and we will send you one. The kit is available with 6 or 18 GHz loads, but the 18 GHz ones are not often available.
85054 type-N kit With 6 GHz loads. Payment in GBP
With 18 GHz loads.
Please contact us if you wish to purchase the kit with 18 GHz loads. Due to the very high cost of these new, we can sometimes supply the kit with used 18 GHz loads. We will give you a quotation if we can supply used loads, but otherwise the cost will be much higher if new loads are purchased.
Contents
Male load
Female load
Male open
Female open (two-part), which extends the male pin so phase is virtually independent of the exact shape of the male pin.
Male short
Female short
attenuator for verification purposes.
USB stick for measured data on the attenuator, plus some helpful application notes.
Adapter male N to male N
Adapter female N to female N
3.5" floppy disk with coefficients for the 8753, 8720, 8510 or PNA series of VNAs from HP/Agilent. Please state what disk is required (if any).
Specifications
Enclosure
Polycarbonate body, Xylex latch, Stainless Steel pins, thermal plastic rubber liner, foam insert
Size (Length x width x height): 238 x 141 x 67 mm (9.37" x 5.56" x 2.62")
Weight 1.2 kg
Shipping weight 2 kg
The case is splash proof and dustproof (IP 67 rated) using a thermoplastic rubber liner O-Ring
Electrical
Storage temperature: -20 to +70 deg C
Operating temperature: +19 to +27 deg C (66.2 to 80.6 deg F)
Error-corrected range temperature range: 1 deg C (Typically VNAs must be operated at a temperature of no more than 1 deg C from that used for calibration. Please check the data for your particular VNA)
The phase error of the open standards is less than 3 degrees from DC to 18 GHz
The phase error of the short standards is less than 2 degrees from DC to 18 GHz
(Note, the phase error is defined as the maximum difference in phase between the actual phase of the device, and the phase predicted by the mathematical model of the device).



Kirkby Microwave Ltd is registered in England and Wales, company number 08914892. Registered office: Stokes Hall Lodge, Burnham Rd, Althorne, Essex, CM3 6DT.